Obituary for Russell Charles Williams
REFLECTION UPON THE LIFE OF A GREAT MAN
RUSSELL CHARLES WILLIAMS , a Man of Faith and affectionately known as the Gentle Giant, was ushered peacefully into the presence of the Lord on Sunday April 8, 2018. At the time of his passing, at Alexandria Hospital, he was surrounded at his bedside by his wife Patryce, several of his children, and a close family friend.
Russell was born on January 8, 1944 in Brooklyn, New York to Russell Charles and Jessie Williams.
He was raised and nurtured by his father and step mother Eleanor, who helped to pave the way for him to one day seek the Lord.
He trusted the Lord Jesus Christ as his Savior shortly after his high school graduation. This turning point of conversion which began his life of faith took place at a Tom Skinner Crusade in Harlem, NY. For the next few years he and his family were actively involved in setting up crusades and counseling for both the Tom Skinner and Billy Graham Crusade Ministries .
Russell graduated from George Westinghouse Vocational and Technical High School with a degree emphasis in Electrical Installation and Practice. For the next four years, he worked alongside his father as an electrician and carpenter in the Williams family owned business. This apprenticeship opportunity helped him to polish his vocational skills. Years later he would go on to obtain further mastery of these skills by joining the International Brotherhood of Electrical Workers and then graduate from their apprenticeship program.
On November 12, 1965 Russ joined the United States Navy where he served his country four years.
While in the service and also upon completion of his commitment to the military he was an active participant with the Navigators, a Christian ministry organization he encountered during his Naval tour. He co-labored with Navigator servicemen at Patuxent River Naval Air Station, Fort Meade and Fort Belvoir. In early 1970, a Navigator conference held in South Carolina provided the circumstances for him to meet his future bride, Patryce Lyles, who traveled with the same group of college, career and military young adults with whom he was affiliated. This group commuted in his car from the Washington, D.C. area to the conference in South Carolina. At that time Patryce was only a high school student and a new believer. When she finished high school she left D.C. for four years to attend a University in Texas. During her Senior year Russ proposed, asking her hand in marriage.
And then, on August 16, 1975, three months following her graduation and return to the District of Columbia, Russell married his beloved Patryce. They decided to remain in the Washington D.C. area and purchased a home in it's suburb of Alexandria, Virginia. Over the years that followed, they welcomed eight beautiful children into the world. Each child born into their family was dedicated to the Lord and was encouraged to "follow heart after God".
While living in northern Virginia, Russell worked for the METRO transit system as an Electrician Mechanic. He chose to work the METRO night shift so that he could be available to spend time with his family during the day. It was important to him to work alongside his wife and participate in the home education of their offspring. Because of his night job he was able to take part in field trips and homeschool ventures. One of his children's most memorable field trips was when they took an Amtrak train to Pennsylvania for a full day history tour and prearranged luncheon with a noted Historian.
Russell's primary objective in having his children learn out of the home and experience exciting educational and extracurricular opportunities was twofold. He and Patryce wanted to give their children an excellent education and they wanted to use daily activities and instruction to point them to Christ. Russ desired to establish a foundation upon which they could come to know and love the Lord and then grow in their own faith. One of the ways he laid this foundation was by leading his family in a daily time called Wisdom Searc h. He taught each child the importance of putting God first in their lives. He exposed them to Missions and taught them the importance of sharing the gospel in their community and everywhere they went. Sunday afternoons, during family walks, provided the best time to canvas the neighborhood with gospel tracks. But it was also important to him that each of his
children develop a heart of compassion to serve the needs of others. On Saturday evening, once a month, Russell and Patryce took the children to an inner city shelter. The children played the piano, recited scripture, sang, and interacted with the people there. They were sometimes instrumental in leading homeless individuals to Christ. Their father's compassion and faith were so great that once he invited a new convert to live in their home until this homeless man could get his life in order. He taught them to treat this stranger, " the least of these" , in the same way and with the same hospitality they would show the many Missionaries who frequented their home. This example of reaching out to
help others enabled his children to see the heart of Christ in their dad. And, it helped establish a framework for a biblical worldview , practical Christianity, service as a way of life, and genuine faith in action . Other Sunday afternoons were spent visiting grandparents and local relatives, visiting area nursing homes, spending time with the sick and shut in, and taking meals to the homeless. But, while all of these activities were pertinent for providing his children with good character training opportunities, they were not the only focus of this dedicated father. Russell was a man who put his family first. Outreach to others was definitely important, but quality and quantity of time with his family were his priority. Therefore, the most fulfilling times for him were the times he spent going out on regular dates with Patryce and spending lots of time laughing, playing, and doing activities with his children. Over the years, he and his family especially enjoyed bike rides, concerts, family videos, Legos, museums, piano recitals, plays, puzzles, special movies, table games, volleyball, family
vacations, and annual trips to Knoxville, Tennessee or elsewhere for educational training
conferences. He truly loved God and he loved his family with all of his heart. He set a beautiful
example in his home that demonstrated this love by rising very early every morning to have his personal devotions and then spending special time alone with God in prayer. His heart's desire and life long prayer was to establish a Godly heritage and leave a legacy for generations to come. Everyone who knew him knew that Russ was a humble and soft-spoken man. He was one who preferred helping behind the scenes and was not one to draw attention to himself. As he instructed his children in the Word of God, he was also wise to impart to them practical, everyday vocational skills. He taught his sons and daughters how to do basic auto repairs, carpentry, painting, plumbing, and electrical wiring. This came easily for him because he loved being creative, working with his hands and doing mechanical things. He was passionate about the mechanical operation of his childhood
Lionel Trains and set them up for the family at Christmas time. He did this also with his childhood A.C. Gilbert Erector Sets and taught his children how to build. Later in life, this passion for mechanics led him to engineer his unique prize winning Mammoth Crane, a project which began in the summer of 2013 and led to award winning recognition at two A.C. Gilbert Conventions, 2016-2017. Russell retired from METRO in 2004 after twenty-four years of service there. His humble heart and servant's spirit motivated him to volunteer his electrical expertise when he and his family left the northern Virginia area to work with the IBLP Ministry in Flint, Michigan and Indianapolis, Indiana for a span of ten years. Prior to that, during his years in Alexandria, Virginia he had been an active member of Engleside Baptist Church where he served in the AWANA Ministry, Children's Church, Bus Ministry and Choir. He and the family returned to Engleside in 2014 upon completing service with IBLP.
At the beginning of the New Year 2018 Russell claimed the verse, Jeremiah 32:17 "Oh, Lord God! Behold, Thou hast made the heaven and the earth by Thy great power and outstretched arm and there is nothing too hard for Thee!" Having had cancer for over 9 years and having had experienced its devastating effects when it metastasized to over 90 percent of his bones in 2013, he knew that while his prognosis did not look good, God could still use the illness to accomplish great things in his
life. Furthermore, he believed that his life could be a witness to the world of God's great power to do the impossible. Russell's faith motivated him to realize that he was being called to trust the Lord for something out of the ordinary. This meant that he might have to face challenges, obstacles, and pain in the process. But, he was fully persuaded that "The God of all flesh" would carry him through. Surprisingly, toward the end of January, when his health was at its worst and when he least expected
it, Russ received an invitation to travel to another state to present his Mammoth Crane . This event was to be held in Ohio and was expected to draw over 12,000 people in attendance. To prepare the crane, which needed major modifications for display, seemed like an impossible feat because of his physical limitations and his inability to negotiate the stairs that lead to the lower level of his home. He prayed that if it would honor Christ to have his project on display, God would make a way for him to go down the stairs to examine it before beginning to make the necessary modifications. Therefore, by faith, and believing God with the assurance that He could do the impossible, Russell agreed to bring his Mammoth Crane to Ohio. But, disappointment came when weeks went by and the crane remained unattended and his health remained unstable. Day after day he prayed for the strength to go down
the stairs but his legs were too weak to do it. Then, one day, the Lord provided just enough strength for him to laboriously make it down the stairs to examine his master project. This special strength came just a few days before he was taken by ambulance to the hospital, posing a new set of challenges. The hospitalization made it impossible for Russ to do anything with his crane and the time was drawing near for it to be in Ohio. But, this dilemma was not beyond the loving attention of an awesome God who had an exciting plan. In His sovereignty, the Lord provided a unique way for Russell to give instructions to others from his hospital bed so that they could follow his guidance in making the modifications. It took three sessions but the project was completed. Russ guided his sons and six men from his church, step by step, using Video Chat. He was unable to travel with the
Mammoth Crane , but his oldest son Benaiah and his wife Patryce transported it by U-Haul to the Ohio Expo. The God of the impossible had answered Russell's prayer and his cancer limitations did not prevent him from realizing his dream of "Making Christ known" , by having his crane displayed for many thousands of people to see. God answered his prayer and rewarded his faith! Russell will not only be remembered as being a Man of Faith , but he will also be remembered as a genuinely loyal, loving, and hard working husband, father, son, and friend. This Gentle Giant will truly be missed by all who knew and loved him. What a comfort it is for them to know that he is forever with the Lord. Russ is totally well now and he is praising, worshiping and enjoying God in Heaven. Russell Williams is survived by his loving wife Patryce , their eight children, six in-laws, and thirteen grandchildren: Benaiah (daughter Ariana), Russell III & wife Britania (children Chase, Alette, RJ, Amara, Adalie, and Aria), Arnah & husband James Rudicil (daughter Lilyana), Hans & wife Christine
(son Michael), Autumn & husband Jamaar Benton (children Benjamin, Sondra, Ava, and Blake), Micah & wife Jena, Tamarah & husband Aaron Williams, and Alyse .
Russell is also survived by his mother Jessie Law and sister Diane & husband Kenneth Manning. Additionally, he is survived by his step mother, who raised him, Eleanore Williams and sister Marie & husband Robert Leighton, sister-in-law Cheryl Williams, brothers Steve Williams and Mark Williams, step sister Deborah Millerson, and step brothers Kenneth Millerson and Alfred Millerson. Furthermore, he is survived by sisters-in-law, Denyse Jeter-Williams and Paulette Guy. He leaves behind a host of nieces, nephews, cousins, family and friends. He is preceded in death by his father Russell Charles Williams Sr., his brother Dennis Williams, sister-in-law Eugenia Williams, father-in-law Paul Lyles, mother-in-laws C. Belle Simmons Lyles, and Arlene Lyles, sister-in-law Yvette Dewel, and brother-in-law Paul Guy.
Russell Williams funeral and memorial service, "A Celebration of Life", will be held Saturday May 5, at 11:00 am at Engleside Baptist Church. There will be a one hour viewing before the service. Following the service will be a graveside burial at National Memorial Park in Falls Church, Virginia. All are encouraged to return to the church for a fellowship luncheon. Please come join us in being an encouragement to the family and to help them commemorate the life and legacy of this great man.
To send flowers or a remembrance gift to the family of Russell Charles Williams, please visit our Tribute Store.
Previous Events
Visitation
Engleside Baptist Church
8428 Highland Lane
Alexandria, VA 22309
Service
Engleside Baptist Church
8428 Highland Lane
Alexandria, VA 22309
Graveside
National Memorial Park
7400 Lee Highway
Falls Church, VA 22046
Reception
Engleside Baptist Church
8428 Highland Lane
Alexandria, VA 22309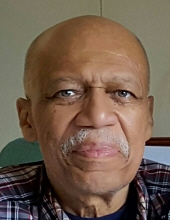 Thank you for sharing your
memory of Russell
Provide comfort by sending fresh
flowers from our local florist.
No thanks, please don't show me this again.