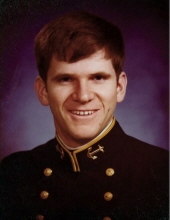 Obituary for Jean-Pierre Hill
On Tuesday 22 August 2017, Jean-Pierre, known lovingly as "J.P." , passed away in Alexandria, Virginia, of a sudden heart attack. He is survived by his wife, Mary, his mother, Luci, and his sister, Cindy. He was preceded in death by his father, Bill.

J.P. was born in Wimbledon, England 6 July 1958. As the child of a career Air Force man and his French wife, J.P. not only traveled the world but learned the value of self- discipline, independence, and resilience. After graduating as the Valedictorian of his high school class, J.P. was appointed to the United States Naval Academy where he graduated with a Bachelor of Science degree in Engineering and History in 1980.

J.P. proudly and honorably served his country in the United States Marine Corps and the United States Marine Corps Reserve as a Field Artillery Officer and an Intelligence Officer until his retirement as a Colonel in 2010. During his active service he participated in the Multinational Peacekeeping Force in Beirut, Lebanon and in Operation Desert Shield and Operation Desert Storm. As a Reserve Officer he served in the Operational Intelligence Center and rose to command the Marine Corps Intelligence Activity.

Following J.P.'s retirement from the United States Marine Corps, he worked for both civilian organizations and federal government agencies as an Intelligence Expert. In 2002 he began his service with the Department of Defense Office of the Inspector General. Based on his code of conduct embodying integrity, loyalty, honor, selflessness, and courage he was promoted in 2014 to Deputy Assistant. His wisdom and guidance made notable contributions to intelligence, counterintelligence, special operations, and security related operations.

J.P. was a disciplined runner, weight lifter, and an enthusiast of all sports. With a keen appreciation for talent he collected and consumed books, music, rock and roll concert t-shirts, and movies. He traveled like a gypsy across the globe. He had a mind for facts, a remarkable memory, and an intelligent dry wit. He was a mentor to many and a beloved member of many families. He was a true gentleman and his friendship was forever. To his wife of 20 years he was both the boy next door and the romantic poet. He was a devoted spouse, and his love was endless.

The memorial service will be at the United States Naval Academy Columbarium at 1100 followed by a reception at the Leyte Gulf Room of the United States Naval Academy Club, Annapolis, Maryland, Wednesday 30 August 2017.
Previous Events
Service
United States Naval Academy
121 Blake Road
Annapolis, Maryland 21402